Pet Mom Saves Her Cat and Thousands of Dollars in Medical Bills
October 1, 2021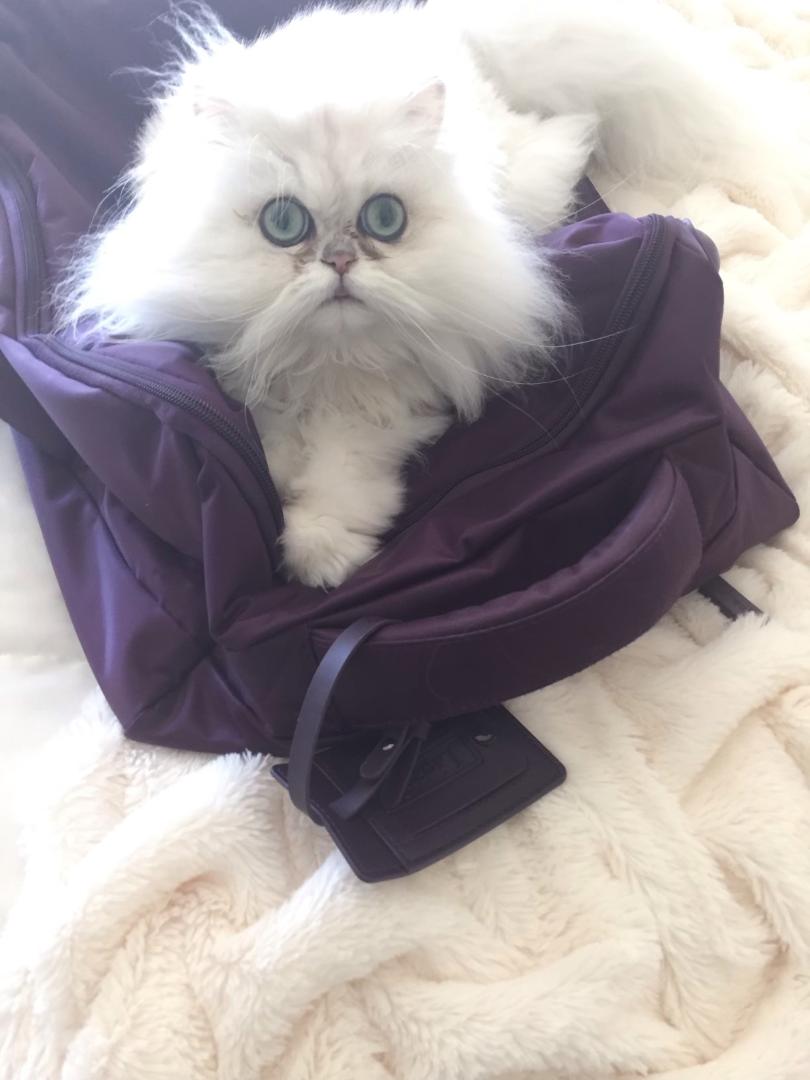 Insurance Allows Ouzo to Get the Emergency Care He Needs
"One night he came into the bed and I saw he was walking strangely," recalls pet owner Terri Josephs. Her sweet cat Ouzo was licking his leg and side. "I know that's not a good sign," she added." When I patted him, he yelped."
The next morning, Terri followed Ouzo to his cat litter and noticed he couldn't go to the bathroom. She knew exactly what was wrong. "We got in the car right away."
Terri's family vet suggested she go to Advanced Veterinary Care Center in Davie.
Ouzo is Hospitalized
At AVCC, Ouzo was admitted to the hospital. He was diagnosed with urethral obstruction (blockage of the lower urinary tract). It's a serious issue that can become a life-threatening emergency within just a few days. Terri knows this all too well. She once had a cat pass away from the same condition.
Doctors and nurses at AVCC were able to unblock Ouzo.  A urinary catheter was placed to keep his bladder empty. He received supportive care including intravenous fluids, pain medications, and urethral anti-spasm medications. "They were lovely," says Terri about the staff at Advanced Veterinary Care Center. "They were absolutely lovely, kind, and explained the situation," she adds.
About Urethral Obstruction
Urethral obstruction is most common in indoor neutered male cats living in multi-cat households. Causes of urethral obstruction include physical obstruction by a urethral plug, stones, stricture, or neoplasia (abnormal growth of cells). Mechanical obstruction is another cause secondary to urethral spasm and edema (swelling). When no obvious disease is found, the condition is referred to as Feline Idiopathic cystitis (FIC). In FIC, the exact cause cannot be determined.  But, there are several factors that can contribute to obstruction including diet, environment, and stress.
At the time of discharge, Ouzo's bloodwork was normal.  He was also eating well and urinating normally without the urinary catheter in place. While doctors were able to unblock Ouzo, they let Terri know that there is an increased risk with blocked cats and that he could re-obstruct and require another hospital stay.
Ouzo Returns for Surgery

At home, Ouzo was unable to go to the bathroom. So, he returned to Advanced Veterinary Care Center to explore surgical intervention. Terri met with Dr. Shiara Arulpragasam, Director of Surgery. "Dr. A is lovely and she explained everything beautifully," says Terri. Dr. Arulpragasam performed a perineal urethrostomy (PU). It's a procedure to make a new opening for the urethra that is at a level where the urethra is wider.  This allows animals to urinate more easily and they are less likely to suffer future urethral obstructions.
Today Ouzo is doing amazing and Terri says he is, "slowly becoming is affectionate self again." But, the cost of emergency and specialty care for animals can really add up. Terri was thankful she had pet insurance for Ouzo. It saved her thousands in medical bills.
The Importance of Pet Insurance Today
In 2020, $103.6 billion was spent on our pets in the U.S., according to the American Pet Products Association (APPA).  That amount includes costs for routine veterinary care, emergency care and specialty care.  Veterinary medicine today is comparable to human medicine. The cost for veterinary expertise and experience of the doctors, nurses and staff, along with state-of-the-art diagnostics and technology can add up. The same holds true for human medical care. So, for a pet owner without insurance, it could mean having to make a devastating choice. "Having pet insurance is a very real necessity," says Dr. Jon Rappaport, Co-Medical Director of Advanced Veterinary Care Center in Davie. "For many pet owners, having proper insurance with a plan that covers 80-90% or more, can all too often make the difference between life and death when a serious illness or accident arrives," adds Dr. Rappaport.
"You just don't know what's going to happen," says Terri.   "I learned that lesson, when I had three kitties before my Ouzo and Nika," she adds. "Remy had kidney disease and I gave her dialysis for a year. Stoli had cancer and we had to give him red blood cells and chemo. It cost us a fortune. I swore if I got new pets, I would get pet insurance right away!"
To learn more about your pet insurance options, you can explore a variety of plans here!
Back to Blog Post